AMENITIES
CD library
DVD player
Local television
Fishing equipment

DVD library
Stereo system
Games Console
Kneeboard

Wakeboard
Child waterskis
Dinghy: Caribe / 0ft 0in (0.0m) / 40HP

Adult waterskis
Towing ring
Swimming noodles
DECK & SYSTEMS
Air-conditioned: Fully
Deck shower

Voltage: 220
Swim platform
DIVING
| | | | |
| --- | --- | --- | --- |
| Diving by arrangement / rendezvous | | | |
LADY DOMINIQUE II Crew Profile
Captain: Sylvie FINK
French professional maritime book n° 2005V5931
American visa B1/B2
STCW 95 / CFBS, Medical 2,
Languages spoken: French, English, basic German
Sylvie is born by the sea, in Normandy, where she started sailing with her father when she was a teenager.
This was the beginning of a long love story with the sea and boats. It was quite natural that she started working in the area.
The weather forecast is challenging there and she enjoyed working with the stream and the tides.
A few years later, Sylvie took the opportunity to sail on bigger yachts, cross the ocean and move to the Caribbean.
It has been 10 years now that she works as a captain in the Caribbean, sailing everywhere from the Bahamas to Grenada.
She really enjoying doing charter, always working to provide the best quality service and to share her passion with the guests, making sure that they will have the best holidays of their life.
Chef-Hostess: Liana TOBIAS
STCW95
American visa B1/B2 in process
PCM « French Marine Marchande » since 1991
PADI rescue certification since 1987.
Languages spoken: French, English, Spanish, Portuguese &,Italian
Growing up in a Brazilian Island where the culture is to be fit and health, nutrition became my passion.
I have been a sailor over 30 years through the Caribbean and composing amazing international meals for Europeans and American guests.
I do enjoy to delight their vacation with the flavors from paradise.
My international culinary was duly appreciated by Michelin chefs on board.
I am very happy to join Sylvie aboard Lady Dominique and really excited to welcome our new guests.
In addition of my "cuisine" I will be pleased sharing also with them Caribbean little secrets or teaching them any kind of nautical sports in order to make their cruise unforgettable.
CHEF - HOSTESS: Caroline LAUNAY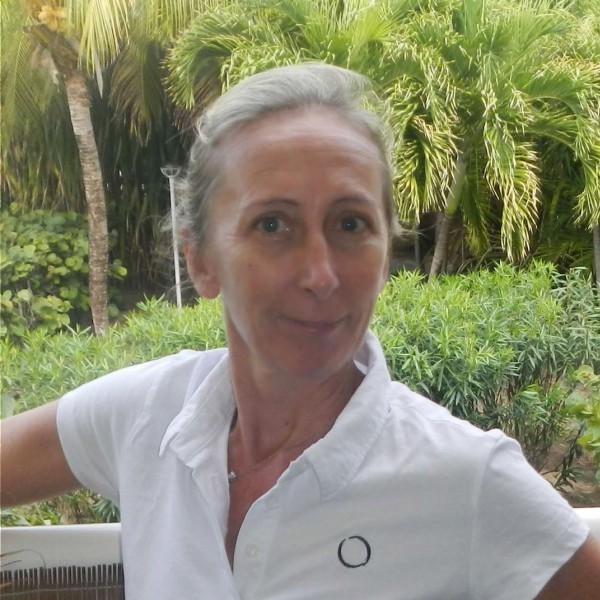 Caroline was born in Normandy. She speaks French, English and Spanish fluently.
She travelled a lot and lived one year in USA (New-York and San Diego) and repeatedly in Spain.
After many years at Charles de Gaulle Airport (Paris) in Aircraft Management, she chose, 13 years ago, the sea as her office.
She is now experienced Chef/Hostess just as much on sail/motor and charter/owner yachts. Mainly in Caribbean, Mediterranean and South America.
4 years chartering on "SY OUVEA V".
She made 8 transatlantic yacht deliveries.
Her priority is to make her guests sailing vacation just unforgettable with her gourmet, healthy and diversified culinary savoir-faire.
Based on French, Mediterranean and Caribbean style but truly open to any guest preference. She is obliging, perfectionist and enjoyable.
LADY DOMINIQUE II Specifications
LADY DOMINIQUE II Testimonials
Charter on May 13-13, 2016 in the Grenadines / Partyof 8
Sylvie, 
Just a quick email to say thank you forall the effort and skill you and Patricia put forth to sail us around theGrenadines. I know Myles and Rob enjoyed themselves being able to participatein helping out. 
Both you and Patricia helped make thevacation for all of us so wonderful. I hope you hear from the others but I knowwe had such an incredible experience and it was basically due to both you andPatricia taking such good care of us. 
As I said in my email to Patricia it wasdifficult to say good bye yesterday. It is always difficult to say good bye buteven more so when we all had such a good time together. So thank you again fromboth of us, and on behalf of everyone. 
As I said to Patricia, we hope that ourpaths may cross again in the future, perhaps in St. Martin or maybe even inNormandy. So let's hope we can raise a glass of wine together some timeagain. 
I sent Patricia two photos and hope thatMyles will send me the group photo so I can forward it on, if he doesn't haveyour email address, or I'll give him your addresses and he can send the photoson. 
Thanks again, sending wishes for awonderful life and many more wonderful sailing trips for you!
Charter February 26 - 29, 2016 /  Virgin Islands /  5 guests

We hope your charter lived up to your expectations. We would love to know someof your impressions about your yachting vacation. Please answer the followingquestions and add any comments you may have.
5 being the highest 0 being the lowest
5 out of 5

1. Was the crew friendly and accommodating?  
fantastic
2. Was the yacht comfortable and clean?  
great
3. Was the yacht well ventilated?  
yes
4. Was the food good and well presented?  
10 out of 10
5. Did you like the area you sailed?  
yes very much
6. Could we at Virgin Island Sailing, Ltd. have helped you further in anyway?  
no-- trip was perfect
7. May we post this review on our website?  
Yes
8. Additional comments on your charter?  
the girls did a great job- we loved the boat and experience was incredible.
9. It is our pleasure to keep you informed of relevant specials / updates foryour next charter. When do you plan to charter next?  
Steve S
Charter February 3-10, 2016 / BVI'S / Family of 8

Just want to send a note of "Thank You" for an excellent BVI charter on Lady Dominique II.
We had a wonderful time, and it was a lot to do with you two!
You were both excellent hosts and we enjoyed every minute of every day.
The places we stopped and the food was spectacular.
The cabins and amenities onboard were very nice.

Thank You again for an awesome time!
J L

Charter on May 14-21, 2015 /BVI'S / Family of 5

Thank you both for such wonderful week! This boat is amazing and many memories were made. You two Sylvie and Valérie, were awesome. What adventure it was! Merci!
M. W.
Thank you so very much for a great tour through the BVI'S! 
Great fun for the extended famuily, great food! Sylvie & Valérie the queens of the BVI'S!
T.
Sylvie, Valérie, Many, many thanks for creating a trip I will never forget. You did everything to accommodate on every need. C'est magnificient ! Valérie thank you for all you cooking delicious! Sylvie, thank you for being a gracious and most capable captain AND for snorkeling with me. It was a wonderful time and I hope to returnsome rather than later.THANK YOU SO MUCH ! MERCI BEAUCOUP
R.
Sylvie and Valérie, Thank you so much for an incredible trip. From the sight evening scubadiving and skiing to the delicious meals it was a trip I will never forget. 
N

Charter on March 14-21, 2015 / Grenadines / Family of 5
Lady Dominique 2, we will not forget the week with you and the wonderfull crew. 
Each day wass fuled with fun adventures and delicious food.
Best, K E
Charter January 7 -14, 2015  in the Grenadines / Family of 6
To say this was an incredible vacation is an understatement. The food was perfection, the sailing exhilarating and the service beyond compare. Tom said it best yesterday when he described the experience as being a child again. No decisions, just fun all to our delight! Thank you Jose and Deborah for a European experience in the Caribbean!
May our trails pass again and Merci!
Daenene et Tom C.
-------------------------------------------------------------------------------
December 24 - Jan 3, 2015 / Grenadines / Family of 6
"Amazing weather, food and sailing! Enjoyed every moment of the vacation. Can't wait to make it back down to the Caribbean."
B. B.
"What a great honor to have enjoyed a week on board the Lady Dominique 2 with excellent chef + first mate Deb along with superb captain Jose. If there's a better way to spend 10 days of vacation, we'd like to know it!"
A. & D.
---------------------------------------------------------------------------------
March 2014, BVI'S / Family of 6
Awesome experience.
Crew was superb! Always wanted to help. I loved it ! Experts and fun at the same time.
Meals could get any better. Deborah is a rockstar-master of everything she does.
Snorkeling, floating, water activities were the best.
Everything we could imagine was onboard.
Every Spot was fantastic. Cannot think of a better vacation. Thank you ! K; B.
---------------------------------------------------------------------------------
December 22-31, 2013 / BV'S / Family of 7
"We had a blast and cannot believe our trip is almost over. Julie and Deborah have done a terrific job over the past week".
Cheers and thank!.
Andy G.
LADY DOMINIQUE II Specifications
LENGTH
62ft (18.9m)
BEAM
30ft (9.1m)
DRAFT
5ft 8in (1.7m)
YEAR BUILT
2011
BUILDER
Privilege Alliaura Marine
DESIGNER
Marc Lombard
GUESTS
8
CREW
Captain Sylvie FINK + 1
REFIT
SPEED
10kts / 12kts
STABILISERS
None
FLAG
France
ENGINES
2 x 160 HP engines
LADY DOMINIQUE II Accommodations
LADY DOMINIQUE II can accommodate 8 guests in 4 identical double cabins equipped with king size beds converted if need into twins, shower and toilet.
Disclaimer
All information contained in this site has been provided by third parties, and Charter Index is providing this site on an 'as is' basis, and makes no representations or warranties of any kind with respect to this site or its contents and disclaims all such representations and warranties. In addition, Charter Index makes no representations or warranties about the accuracy, completeness or suitability for any purpose of the information and related graphics published in this site. The information contained in this site may contain technical inaccuracies or typographical errors. All liability of Charter Index howsoever arising for any such inaccuracies or errors is expressly excluded to the fullest extent permitted by law.
Neither Charter Index nor any of its directors, employees or other representatives will be liable for loss or damage arising out of or in connection with the use of this site. This is a comprehensive limitation of liability that applies to all damages of any kind including (without limitation) compensatory, direct, indirect or consequential damages, loss of data, income or profit, loss of or damage to property and claims of third parties.
Notwithstanding the foregoing, none of the exclusions and limitations in this clause are intended to limit any rights you may have as a consumer under local law or other statutory rights which may not be excluded or in any way to exclude or limit Charter Index liability to you for death or personal injury resulting from our negligence or that of our employees.
Nothing on this website constitutes advice, nor does the transmission, downloading or sending of any information create any contractual relationship. Prices and indications as to the availability of yachts, captains and crew on this website are given for guidance purposes only and are subject to change without notice.
Charter Index is not responsible for the content of external websites that link to this website or which are linked from it.
Copyright
All content, designs, text, graphics, software compilations and source codes on this website are the copyright of Charter Index and/or its content providers. Reproduction of part or all of the contents of this website in any form is prohibited other than for individual use only and may not be recopied and shared with a third party.
The permission to recopy by an individual does not allow for incorporation of material or any part of it in any work or publication, whether in hard copy, electronic, or any other form. Any other use of the website without prior written consent from Charter Index is strictly forbidden.
<![if ! IE]> <![endif]>