Sea Chateau is a Voyage 50 Mayotte Catamaran. It was especially designed by famed Naval Architect Alexander Simonis for fast, comfortable, luxury charters. Its extra wide beam offers outstanding stability, safety and exceptional space in its four staterooms with queen beds and en suite heads, huge saloon, cockpit and decks. The beautiful gourmet upper level galley shares its large panoramic-view windows with the saloon and bar that form an exceptional airy and bright integrated entertainment area, where you, your family and friends will enjoy the vacation of a life time. And when it comes to having fun in the water, the large teak aft deck, and the two "sugar scoop" swim platforms with large s/s ladders and handrails make it extremely easy and safe for everyone to get in and out of the water and take part in all the fun. It also makes getting in and out of the dinghy a breeze. No stress, no worries, all fun and enjoyment.
Yow will swim in crystalline turquoise waters. You will snorkel into ancient caves and sunken pirate ships. You will sail to a different paradisiacal island every day. You will catch your trophy fish. You will take in the tropical sun through every pore of your body. You will enjoy delicious tropical drinks and gourmet meals. You will feel the warm and gentle trade winds combing through your hair. You will walk carelessly on miles of the most beautiful white sandy beaches. You will sleep under the stars. You will share and bond with family and friends like never before. You will sing, you will dance, you will laugh and you will play. But above all you will have the time of your life. On "Sea Chateau" it's all about you and your enjoyment.
AMENITIES
CD library
DVD player
Local television
Fishing equipment
Wakeboard
Towing ring

DVD library
Stereo system
Hammocks
Air bed
Adult waterskis

1 adult windsurfers
MP3 music server
Beach games
Kite board equipment
Underwater scooter multiple

Dinghy: Caribe / 15ft 0in (4.0m) / 60HP
Outdoor audio system
Board games
Paddleboard
DECK & SYSTEMS
Air-conditioned: Fully
Deck shower

Voltage: 110v
Swim platform

Barbeque
WiFi and Internet
DIVING
Diving by arrangement / rendezvous
Snorkeling gear
SEA CHATEAU Crew Profile
Captain: Byron Greonewald
Barend (Byron) Groenewald grew up in Paarl, a beautiful small town in the wine country outside of Cape Town. Growing up with a very adventurous family, he had the privilege of enjoying the ocean and all it had to offer from a young age. At the age of 18, he pursued a dream of obtaining a captain's license, which led to 10 years of experience sailing the worlds oceans as a professional, captaining vessels from sailing monohulls, catamarans, and power yachts.
Byron's main passion in life is to share his love of the ocean with others that feel the same and expose those who have never had the chance. With his expertise in all water sports ranging from sailing, diving, wake boarding, waterskiing, free diving and fishing just to name a few. He can accommodate all levels of skill and a varying age group in enjoying the ocean and all it has to offer. Byron's qualifications in the industry make him a great host and teacher in and on the ocean. Having completed his RYA Yachtmaster Ocean and Instructor courses, PADI Rescue Diver and wakeboard/ ski instructor, he is sure to assist all levels from beginner to advanced water sports enthusiast, ensuring that everyone gets the most out of the great wonders the ocean has to offer us.
After exploring and working in destinations about which he had always dreamt (the coast of Africa, the Caribbean, Mediterranean and most of South East Asia), Byron finally had the means to purchase his own sailing catamaran and pursuing his lifelong dream; chartering the beautiful South African-built sailing catamaran SEA CHATEAU.
If you can't find Byron in or on the water, he surely can be found exploring the beautiful islands, always looking for the off-the-beaten-path hidden gems, or interacting with the vibrant locals on the islands, soaking in as much information and culture as possible.
Chef Mate: Dianne Kelliher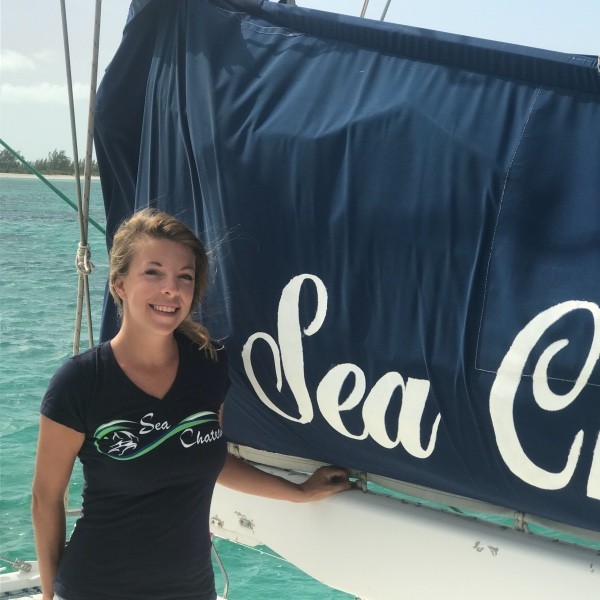 Chef/first mate Dianne is American and grew up near Cape Cod Massachusetts where she obtained a degree from Lesley University in Counseling with a specialization in Special Education. Her passion for travel landed her a job as a therapist on Tortola in the British Virgin Islands in 2012, where she met Captain Byron. Her love for cooking started at an early age, being exposed to New England seafood and a family who loved fishing and being on the sea.
After working in the fine dining industry under world renowned chefs, Dianne decided to bring her passion for outstanding cuisine to Sea Chateau, focusing on freshness and local cuisine. Striving to make Sea Chateau one of the most sought after charter yachts in the Caribbean. Sharing with guests why she fell in love with natures little secrets
SEA CHATEAU Specifications
SEA CHATEAU Testimonials
Guests aboard Sea Chateau for May.11th

Carlos and Maribel,Our first trip with you was so memorable that we thought it couldn't be repeated-But it was!! New experiences- like The Baths, fishing, the road tour in Tortola, and swimming with Woody, made our time with you a week we will never forget! The Royal Treatment once again- and Maribel: the best food in the Caribbean!!Many thanks.Anne DodsonMay 11, 2016""You have once again taken us to Paradise! These memories will last us a lifetime!Love.ColleenMay 11, 2016" Thank you for a wonderful week. Another great trip on the Sea Chateau!!Perfect in every way.Nancy PaschalMay 11. 2016"


Guests aboard Sea Chateau April.19th.16

"Dear Carlos and Maribel:How have we loved thee? Let us count the ways:.- The weather. (Arranged by Carlos, of course!).- The boat. (Beautiful and Comfy).- The fishing!! .- Caribbean Showers..- Swimming..- Snorkeling..- Turtles, stingrays and beautiful and colorful coral..- Amazing tropical fish, including the "scary" ones- barracuda and tarpon..- Beautiful sunsets..- Laughing..- Cocktail hours....Oh... and did we mention....THE FOOD?...simply amazing!! Maribel is a magician in the kitchen and will always be a legend in our mind!.- Painkillers!!! Yuuuumm!.- Perfect itinerary.and on...and on... and on...Words can't describe how much we loved our "trip of a lifetime".Our heartfelt thanks to you both!Mary, Angela, Brenda & Gerri.Rehoboth, Delaware.April 19, 2016"


Guests aboard Sea Chateau in early April

"Carlos & Maribel,We cannot thank you enough for our wonderful vacation aboard the Sea Chateau! We were so comfortable aboard your immaculate boat. It was a wonderful "home away from home" while you showed us the beauty of the BVI's. And Maribel, your fabulous meals blew us away every time! We are forever spoiled!!Six friends have amazing memories for a lifetime thanks to both of you! We will see you again!Karen & Matt TroyerJackie & Michael WidrickJody & Dave DobrowskyBedford, NH. April 9, 2016"


Guests aboard Sea Chateau March.29th

"Maribel and Carlos,Thanks for another great vacation. As always, everything was fantastic!The girls loved the tubing, knee boarding and learning to dive-glide. Thesnorkeling keeps getting better and better. We went from no turtles on our firsttrip to six turtles on this trip.The food was excellent as usual. Thank you, Maribel!Can't wait to come back!Susan, Heather, Lizzie and Helena Colman.Thank you for another fantastic vacation! This was the first trip that we saw more than one turtle!Maribel, thank you for the amazing meals and snacks! Carlos, thank you for beingan amazing guide, and for the smooth sailing! Dive-gliding in Peter Island wasamazing and the tubing in Christmas Cove was spectacular!You have blown us away with another fun and exciting vacation!Heather Colman.March 29, 2016"


Guests aboard SEA CHATEAU in mid-March, 2016, said:
Thank you Carlos and Maribel for a fabulous week full of fun activities and great food. Carlos, we thank you for always being so attentive and keeping us safe. We felt very comfortable with your expertise as a Captain. Maribel, your abilities as a trained chef were very evident with all the food you pampered us with. There was not a bad meal in our trip. Food was amazing and heavenly. I loved talking to you and getting cooking tips I'll treasure. I appreciate Carlos always trying to keep the kids entertained with the snorkeling, tubing and dive-gliding. Also all the recommendations for activities at the different islands were great, relaxing and entertaining.We had an outstanding vacation and we will be back. I have no hesitation in recommending the Sea Chateau to anyone. The vessel is clean, comfortable and very attractive. We had plenty of refreshments , water and snacks between meals. This trip was unique to strengthen our family bonds and spend quality time with our kids doing activities from snorkeling to board games. Again thank you for making this one of our best vacations.Luis , Valerie , Victoria and Eric Torres

Guests on board Sea Chateau in 28th February

Maribel and Carlos,Thank you for an amazing vacation. We don't get much opportunity to travel, so this trip meant so much for us. You helped make it very special by allowing us to relax, see new places, and try new things- I'm hooked on knee-boarding now!! Maribel, you were so thoughtful about cooking and making sure that Brianna's needs were met. She loved the pancakes and especially the desserts- Yum!! We came here to just be together and relax and enjoy nature and that's just what we got to do. Thank you for always being so professional and thoughtful and down to earth. We hope it won't be long until we get to return!
Kindly,Colleen, Greg & Brianna.

Guests on board Sea Chateau/November 28th charter


"Carlos and Maribel"Thanks for another amazing vacation on the Sea Chateau. The girls will be talking about Maribel's cooking non-stop until we come back! They also had a great time testing the new tube. The sea turtle in Christmas Cove was amazing! Another unforgettable family vacation!!The Colmans, Gerard, Susan, Heather, Lizzie and Helena.Nov. 28, 2015 "


Guests aboard SEA CHATEAU in June, 2015
Carlos and Maribel,
I thank you from the bottom of my heart for your hospitality and expert knowledge, not to mention the delicious cuisine. It was a week of adventure, beauty and subli...me images.Your special touches- the Rye, the baked goods, and the beautiful craft, all contributed to a very special trip. You accomplished the purpose of this voyage- to introduce my family to the BVI's and reinforced and filled in my experiences at the same time. You are called friends forever and we will never forget the time we spent with both of you.
Gracias!!
Gap and Carol Gammichia. 
Shelby Twp, Michigan"
"Carlos and Maribel,This was the perfect first experience in the BVI's. Your knowledge of the islands, hospitality & the amazing cuisine complemented the beautiful views and the amazing waters. We look forward to being able to share this experience again in the future with more friends and family.
Cheers and many thanks.
Michael and Jenny Corr. 
Okemos, Michigan."
"Maribel and Carlos,We are so grateful to you both for your seafaring and culinary skills, but most of all your welcoming us into your home and your friendship. Your hospitality will not soon be forgotten. Should you find yourselves in Michigan or if we can ever return the favor otherwise, please don't hesitate to look us up!
Jim Gammichia 
Ken Horberger.
Macomb, Michigan
Guests aboard SEA CHATEAU in April, 2015
Carlos and Maribel,

Thank you so much for a trip that was truly...

F.- Fun in the Sun.
A.- Awesome knowledge provided by Carlos.
N.- Nightly Sunsets.
T.- Tremendous Snorkeling.
A.- Adventures every day.
S.- Sensational and Comfortable Sea Chateau.
T.- Terrific Dive Gliding.
I.- Incredible Meals by Maribel.
C.- Constant Smiles and Laughter.

It was a wonderful week!
Thank you for the memories!

Pam and Andy Guion
Beth and Sherman Lyle
North Carolina
---
Guests aboard SEA CHATEAU in late March, 2015
Thank you for sharing your slice of heaven with us *:) happy We had a wonderful time exploring the BVI and... thoroughly enjoyed each day on board the Sea Chateau and Maribel's fantastic kitchen creations. *:) happy.
Doug, Jodi and Jax
Kentucky
Our trip was amazing!! The food, the relaxation and sightseeing. Oh, I almost forgot- the desserts were Marvelous!!
Jax. (11 y/o)
---
Guests aboard SEA CHATEAU in late March, 2015
Maribel and Carlos,
Thank you so much for your Caribbean Hospitality. We appreciate your patience and kindness towards our family. Our first trip to this beautiful area was extra special because of your professionalism and expert knowledge. We all devoured every delicious meal tha...t was lovingly prepared. Thank you for sharing yourselves and the Sea Chateau with us.
Chris, Melissa, Hannah, Emily, Marie and Richard.
Niceville, Florida
---
Guests aboard SEA CHATEAU in mid-March, 2015

Carlos and Maribel,
Thank you for giving our family such great memories & a trip of a lifetime! You are both amazing people and we will miss you...until we're back again. *;) winking Carlos, your expertise on where to go for our specific family, our safety, and always impeccable timing; was amazing. Maribel, WOW! ... We can't say enough about all the wonderful meals. You are not only very talented but you are such a sweetheart as well.
Having four teenagers, we really needed this family time together. Thank you for all the time and effort that you both put into making it so special for us. You both went above and beyond!
Love. John, Andrea, Layton, Trevor, Brennen and Hollynn
Austin, TX.
---
Guests aboard SEA CHATEAU in early February, 2015

The beauty and grace of these islands were certainly matched by the Sea Chateau and our hosts: Carlos and Maribel.
Everyday was a perfect blend of sailing, swimming and snorkeling. Of course, there is no great vacation without great
food and in this regard, Maribel's cuisine was exceptional. Thanks for a wonderful trip. A truly memorable time where we
enjoyed each other and our time on the islands.

Lynn and Vickie Steadham
Boise, ID.
Ken and Debbie Brown
Laguna Beach, CA  
---
Guests aboard SEA CHEATEAU in late January, 2015

"WE DON'T WANT TO LEAVE!!"
Thank you for a most excellent vacation. Everything was perfect. The food was amazing and it was so much fun to watch Maribel cook so expertly. Carlos is perfection at the helm. The boat is immaculate and the destinations were great. Thank you for a thoroughly enjoyable week. It can't get any better! Steve
Wowie!! What a fantastic adventure! It is hard to put a word on the ambiance, food, service and itinerary other than PERFECTO! It was so helpful to have such knowledgeable hosts. Emily
"We have traveled a lot and this was the best vacation of all time! The food, the beautiful boat and Carlos and Maribel:
The Best!! Elaine
The Bablitch family January 24 to January 31, 2015
---
The New Years week guests abaord SEA CHATEAU said:

Wow! What a fabulous week for our family. Maribel, your cuisine was 5 star and thank you for your kind and wonderful hospitality. Carlos, you are the BEST Captain. Your knowledge is insurmountable and we all enjoyed learning about boating and the BVI's from you! Thank you for sharing your home with the Turley's for this unforgettable and glorious week. It was the best family vacation and a fabulous way to begin 2015.
With love and appreciation.
The Turleys
January 5, 2015
---
NOVEMBER 28, 2014

Thank you so much for a wonderful Thanksgiving and another fantastic family vacation. Maribel's cooking is amazing! Carlos is and expert kneeboard instructor- the girls picked it up so quickly! We'll have to see how they do at wakeboarding next time. We are all so grateful for these wonderful family trips and your kindness and patience with the little ones. It was so relaxing and the views and sunsets were spectacular. Thanks again- can't wait to see you again next year!!
The Colmans
---
MAY 2014

"Words cannot express how much we enjoyed our time together on the Sea Chateau! Thank you both for working so hard to make sure everything was "just right" for us all the time, and for graciously sharing your home on the sea with us!
Looking forward to sailing with you again soon,
Jeff, Traci, Zack, Malee and Jack. The Dudan's
Huntersville, NC"
"Carlos and Maribel,
Thank you for being the ultimate hosts during our family vacation. Memories were made that I can never put a price on. The kids loved every experience and especially the food.
Til we meet again.
Traci Dudan"
"Dear Carlos and Maribel,
Thank you for spending time with me. I really liked the knee-boarding and the tubing. Also Maribel's pasta and her desserts. It was the best trip ever!!
Jack Dudan, 10 y/o"
"Carlos and Maribel,
Thank you for everything you did for us. I had an amazing experience. I will never be able to go on a cruise again! This place really is paradise! Thanks for being a great Captain, Carlos and an amazing Chef, Maribel.
Love,
Maelee Dudan" 13 y/o
"Carlos and Maribel,
Thank you for for putting up with our family for the week! We enjoyed every meal, island and sunset. I enjoyed the beaches and the amazing views from them. Also, sailing was always fun, it's not everyday that you get to sail and help put up the sails. I felt very safe with Carlos as Captain and looked forward to every meal with Maribel as Chef.
Many Thanks!
Zack Dudan, 16 y/o
_____________________________

MAY 2014

"Dear Carlos and Maribel,
Courtney and I have had one of the most beautiful and relaxing vacations ever! Your hospitality and professionalism have made us feel secure at all times. The charter exceeded all our expectations in every way. Maribel's talent with food preparation was unique, and gave us the opportunity to experience new flavors and spices.  Every meal was a culinary delight!  We very much appreciated your willingness to accommodate our special activity requests. All your recommendations were spot on! Carlos' experience and local knowledge of the BVI is tremendous! We learned so much about this area and about the logistics of sailing in such a short period of time. It would have taken several trips for us to learn that much if we came on our own. Sea Chateau is a wonderful vessel. We wish you many more years of sailing adventures on her!
Our warmest regards,
Courtney and Sherry
Chattanooga, TN
May 19, 2014."

"Carlos and Maribel,
SuzAnne and I have had a great vacation on the Sea Chateau. The food was great, with expert preparation. What a talent Maribel has!  It was a great experience to visit the BVI. We appreciate very much the local knowledge that you and Maribel shared with us all week long on the different islands. Thank you for everything!
John and SuzAnne,
Chattanooga, TN
May 19, 2014

May 12/14

"Dear Carlos and Maribel,
WOW!!! This has been one of the most pleasurable weeks we have spent together as a family. Thank you for your amazing hospitality, opening your home "Sea Chateau" for us to enjoy.
The islands are absolutely beautiful and we were so fortunate to have Carlos' knowledge and expertise to guide us to the perfect moorings and set out the perfect itinerary for us. Our trip couldn't have been more perfect. Your patience and instruction through all of the activities made for endless fun. (Even if sometimes we couldn't grasp the technique) ;-)
Maribel, you put your heart and soul into preparing the meals and we enjoyed each and every one. The food was one of the highlights of the trip for all of us. Your care and attention to the Sea Chateau has created a very comforting environment.
We will always cherish our memories and pictures of this week spent with you.
Many thanks!!
The Avery's

Lee, Graham, Chris and Meghan
Oakville, Canada"


MARCH 2014

Carlos and Maribel,

Thank you for a wonderful vacation! This was truly an amazing experience!
Thank you for your patience and kindness with our boys!! We have made some
wonderful family memories that we will always cherish. Carlos, your knowledge
and experience put me at ease the moment we stepped aboard! Maribel, the
food was fantastic. I am sure the boys will continue to talk about it!! :-)
I can't wait until we can return for another trip!!
Jared, Jenelle, Maguire, Greyson.
March 28, 2014"


MARCH 2014

" Thank you Maribel and Carlos for the tubing, snorkeling and taking us to the
wonderful islands. Carlos, you are a great sailor and Maribel, you are the best
cook ever. Thank you for the best vacation ever!!

Lizzie
March 22, 2014"

"Dear Carlos and Maribel,
I had so much fun. Thank you for everything. Maribel is an amazing cook. Carlos
is an amazing Captain. It was so peaceful. I loved going snorkeling. I'm so happy that
I got to see a pufferfish, stingrays and a sea turtle while snorkleing. Tubing was awesome.
Sometimes we hit some bumps and went eight feet up in the air!! I didn't dislike one place
we went to, they were all fantastic. I got to finish two books on the beach ;-) !! I loved
everything Maribel cooked us! I had an amazing time. Sea urchins are huge.

Heather
March 22, 2014"

Dear Carlos and Maribel,

The most wonderful family vacation ever!! Carlos and Maribel are the best!! Can't wait
to come back in November!


Heather, Lizzie, Helena, Susan and Gerard
Houston, Texas.
March 22, 2014

February 2014

"Carlos and Maribel,

What a wonderful week! You two are great hosts and made us feel so welcomed. The food
was outstanding - we never wanted for anything. Thank you so much for sharing the Sea Chateau
with us! This is by far the best adventure we have had down here.
Many thanks.
Randy and Sharon
February 28, 2014"

"Carlos and Maribel,
This has been the most memorable trip I have ever been on. The food, the boat and the beaches I
will never forget. You are both great hosts and very professional. We can tell that you love doing this for
your guests.
Thanks is not enough. It was absolutely wonderful. Your efforts have been so appreciated!!
Sandy and Bill
February 28, 2014"


February 2014

Carlos and Maribel,
We had a great, wonderful, romantic 20th. Anniversary that you all did! We
loved all of it. Our Valentines Dinner and all the meals and the stories of your
adventures, your cooking tips, the snorkeling sights! You both really know how to
treat your guests! God blessed us with fantastic weather and new friends!
Thanks again for everything, really words cannot say what a great time we had!
David and Heather
Kansas, February 15, 2014"


January 2014


"Carlos and Maribel.
What a wonderful week! I Have not been pampered like this before and now
we must go back to the "real world". The food was awesome, the best gin & tonics
(Carlos's specialty!) Thank you both for making this vacation especially memorable.
Norman and Diesa
Wichita, Kansas, January 25, 2014"

"Carlos and Maribel.
The trip was more fun and memorable than I could have imagined. Thank you so much
for your generous hospitality! The food was superb and the drinks wonderful. Can't wait
to sail with you again! Maybe even the Grenadines ;-)
Jennifer and Scott
Wichita, Kansas, January 25, 2014"

"Carlos and Maribel.
Thank you for sharing your home with us! Our group had a wonderful time! All of us were
so relaxed. The meals were ***** (Five Stars). As women we loved that there were no dishes!!
Wonderful services! Thank you so much.
April and Eddy
Wichita, Kansas, January 25, 2014"



SEA CHATEAU Specifications
LENGTH
50ft (15.2m)
BEAM
27ft (8.3m)
DRAFT
4ft 0in (1.2m)
YEAR BUILT
1997
BUILDER
Mayotte 500
DESIGNER
Voyage
GUESTS
6
CREW
Captain Byron Greonewald + 1
REFIT
SPEED
7kts / 12kts
STABILISERS
None
FLAG
Virgin Islands (British)
ENGINES
Yanmar
SEA CHATEAU Accommodations
SEA CHATEAU features three cabins with queen sized beds and en-suite heads and showers
SEA CHATEAU is fully air conditioned through out.
Crew has a separate heads and shower.
Disclaimer
All information contained in this site has been provided by third parties, and Charter Index is providing this site on an 'as is' basis, and makes no representations or warranties of any kind with respect to this site or its contents and disclaims all such representations and warranties. In addition, Charter Index makes no representations or warranties about the accuracy, completeness or suitability for any purpose of the information and related graphics published in this site. The information contained in this site may contain technical inaccuracies or typographical errors. All liability of Charter Index howsoever arising for any such inaccuracies or errors is expressly excluded to the fullest extent permitted by law.
Neither Charter Index nor any of its directors, employees or other representatives will be liable for loss or damage arising out of or in connection with the use of this site. This is a comprehensive limitation of liability that applies to all damages of any kind including (without limitation) compensatory, direct, indirect or consequential damages, loss of data, income or profit, loss of or damage to property and claims of third parties.
Notwithstanding the foregoing, none of the exclusions and limitations in this clause are intended to limit any rights you may have as a consumer under local law or other statutory rights which may not be excluded or in any way to exclude or limit Charter Index liability to you for death or personal injury resulting from our negligence or that of our employees.
Nothing on this website constitutes advice, nor does the transmission, downloading or sending of any information create any contractual relationship. Prices and indications as to the availability of yachts, captains and crew on this website are given for guidance purposes only and are subject to change without notice.
Charter Index is not responsible for the content of external websites that link to this website or which are linked from it.
Copyright
All content, designs, text, graphics, software compilations and source codes on this website are the copyright of Charter Index and/or its content providers. Reproduction of part or all of the contents of this website in any form is prohibited other than for individual use only and may not be recopied and shared with a third party.
The permission to recopy by an individual does not allow for incorporation of material or any part of it in any work or publication, whether in hard copy, electronic, or any other form. Any other use of the website without prior written consent from Charter Index is strictly forbidden.
<![if ! IE]> <![endif]>