Imagine vacationing with the finest crew aboard the latest designed 58ft luxurious catamaran!

On SECRET OASIS you will sail, scuba dive, swim, snorkel, windsurf, kayak, fish, or hike through a rainforest. You can also just relax and unwind, explore tranquil anchorages, enjoy a leisurely cruise, sip cocktails at sunset, and catch a glimpse of a shooting star...You decide!

SECRET OASIS, winners of BEST OVER-ALL DISH and Best Appetizer at the 2016 BVI Charter Yacht Show! The winning entry - Chocolate Lobster Mofongo!

AMENITIES
CD library
DVD library
Stereo system
Satellite television
Wakeboard

iPod Dock
DVD player
Local television
Air bed

Adult waterskis
Towing ring
Dinghy: RIB / 16ft 0in (4.8m) / 90HP
Paddleboards multiple

Child waterskis
1 kayaks
Beach games
DECK & SYSTEMS
Air-conditioned: Fully
Deck shower
DIVING
Diving by arrangement / rendezvous
Snorkeling gear
SECRET OASIS Crew Profile
Captain: Robert Jennings (45)
Captain Rob and Chef Georgia welcome you aboard.
Rob a keen Sailor, Artist and Chef has been a Captain in the BVI since 1994. "You could say the BVI is my home. I have been touring guests all over our beautiful islands for many years showing them theb est we have to offer."
Chef / Mate: Georgia Stoica (37)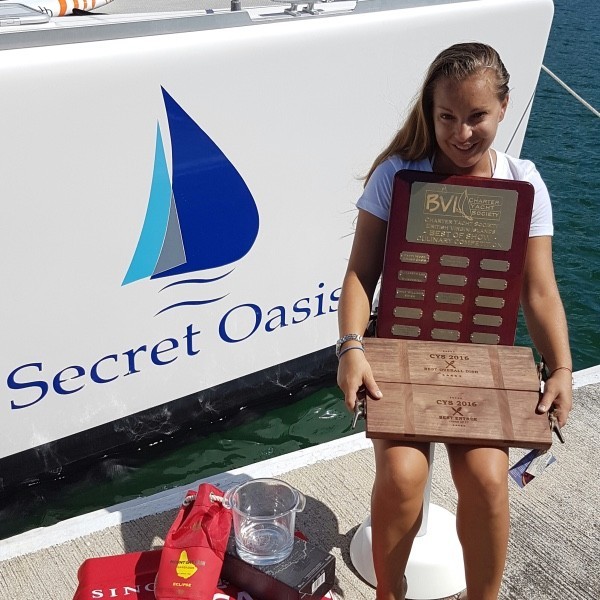 Georgia has been in the BVI since Spring of 2015, but has traveled extensively. She recently sold her guest house in Brasov, Romania where she was host and chef catering for an International clientel. "My passion for cookingallows me to experiment with many different flavors whether it be Asian, Mediterranean or Italian. My main focus is keeping food as healthy as possible using as many fresh ingredients available. Of course dietary requirements are always taken into consideration."
Chef Georgia is the winner of Best Over-All Dish and Best Appetizer in the 2016 BVI Charter Yacht Show's Cuinary Competition.
SECRET OASIS Specifications
SECRET OASIS Testimonials

May 2013



Debbie -

These are Sam's:



Peter and Debbie were really nice. Debbie made really good food. She made chicken for me because I don't like fish. Peter will go snorkeling to the shore with you. The snorkeling was cool. We saw lots of interesting fish and other stuff. Peter takes you to a pirate show. Peter lets you swim under the boat. At night there were big fish that would swim under the boat that looked like sharks, but Peter said they didn't have any teeth. He said there weren't any sharks there. I helped Peter make steak for dinner. We did magic tricks with cards. Peter would say "swimming pool is open" when we could jump in the ocean.



Stephanie





---






Sorry it's taken me a little while to reply. We had the best time on Secret Oasis and would highly recommend Debbie & Peter and the boat. It was our first time chartering, and everything exceeded our expectations. We are not sure how a regular hotel vacation will ever be able to compete.



We all grew fond of Debbie and Peter. They took great care of us. They were lovely to spend time with, very good entertainers and thoughtful hosts. They especially bonded with our kids. Peter is a great adventurer. My son has enjoyed telling his friends that he snorkeled with barracuda, sting rays, and eels. Peter showed us the best snorkeling and we all felt very safe with him at all times. My son likes to talk like a pirate, how Peter taught him "ARRR". Peter taught my husband the basics of sailing, which he really enjoyed. He also taught my daughter how to waterski, with great patience. He wouldn't let her give up and she is very proud that she was able to succeed. Debbie made us great meals, much better than you'd expect from a boat's kitchen. It was like having our own fancy floating restaurant. Debbie accommodated all of our menu requests, and even the kids ate almost everything. She was creative and varied with the food. The kids enjoyed hanging out with her in the kitchen area, playing cards while she cooked. It was a fantastic luxury for me to not to have to touch a thing in the kitchen for a week.



The boat was terrific. It was so well taken care of that it seemed almost new. Everything was very clean and comfortable. We could have a/c at night, but usually preferred open hatch ventilation with the lovely breezes. The boat was plenty big for 9 of us. We never felt crowded, or antsy to get off. Though it was a great pleasure being able to jump into the ocean all the time, or look out and spot a sea turtle coming up for air.



Our itinerary was great. The islands were amazingly beautiful. We particularly enjoyed the Baths, the pirate show, water sports time, and the Soggy Dollar Bar.



This was a vacation that truly felt like a vacation, getting away from it all. There was nothing to worry about, no crowds around to bother us, no lines to wait in, no reason to have to dress up. And Peter and Debbie took care of everything.



On the last night of our cruise, Peter and Debbie surprised us with a slideshow of our trip. I was so relaxed on vacation that I hadn't been diligent about taking photos. But Peter was taking them constantly and sent us home with a full USB stick. My kids and I went through those pictures every day the first week we were back home. I am so happy to have the pictures. I wouldn't have expected Peter and Debbie, who were already quite busy, to also be our photographers, but I am so glad that they did this for us.



My son asked me the other day "do you ever miss Peter and Debbie?", and yes, I certainly do.





You can use my comments on your website. I'll see if I can find a good photo for you.



Thanks,

Stephanie





---













Peter and Debbie 2012
Hallie and James – May 2012
COME SAIL AWAY, COME SAIL AWAY, COME SAIL AWAY WITH ME……

Want the best vacation ever? We started our adventure from St. Thomas! My husband surprised me for our 15th wedding anniversary with a week charter on this luxury catamaran. To say that it was a trip of a lifetime is an understatement. Start to finish was incredible. Peter and Debbie could not be more accommodating. From the chilled champagne and shrimp waiting for us after a long day's travels, to the burgers on Water Island with our new friends at the end of the trip.. we couldn't have asked for more. Great adventures each and every day, spectacular scenery, incredible food and accommodations. I really could go on and on and on and on and on…….you get the picture!

Peter and Debbie's knowledge of the BVI's is superb. They cater the trip to exactly what you want to do.. you can do a lot, or a little.. it is up to you. Peter took us on lots of snorkeling adventures and really made us feel comfortable in the water. Debbie is an outstanding chef! So creative in the food menu, and everything is made fresh daily.

Because it was our 15th wedding anniversary, they added so many little touches to the trip to help us celebrate – from decorating the boat with balloons and banners, to helping my husband arrange an incredible couples massage on Scrub Island (with a surprise bottle of champagne from the crew). Going above and beyond is what Peter and Debbie do best.

So, sit back, relax and take in this amazing adventure with our now friends, Peter and Debbie. We will be back soon!
As seen on Tripadvisor: Neil and Verda
Wow! Where do we begin… is an understatement! We chartered with Debbie and Peter in May 2012. Peter and Debbie are a phenomenal team! They were very professional, yet personal and easy going. Captain Peter goes out of his way to ensure all guests are happy and get to the destinations they wish to go. Debbie is an outstanding chef and adds personal touches to all that she does. The catamaran is spacious, clean and well appointed. We could not have been happier with our charter and highly recommend it to even the most discerning guest. Thank you for an outstanding trip!! Neil and Verda Hutcheson
Cathy,Bill, Cyindi and Chris
Our trip in April 2012 was the 3rd for Bill and myself together and the 1st for Chris and Cyndi together. Peter and Deb were willing to take us anywhere to get some good dives in and snorkeling.

Peter and Deb are so entertaining and we learned so much about them and how interesting their lives are when they're not sailing the Caribbean.

They are a terrific team who work so well together to make sure everyone is well taken care of and never in need of anything.

One of the special treats from this trip was getting the pictures from Peter and Deb. I was ready to be the one taking all the pictures when Deb was right there clicking away! It was nice being in the pictures this time.

Awesome trip and looking forward to getting it together to do it again

Cathy Schmitz
Karen, Amnon, Yael & Zvi 2012
Review for Peter and Debbie – From Karen_2012

Was the crew friendly and accommodating?………. Very much so

Was the yacht comfortable and clean?………. It was very comfortable and very clean when we arrived.

Was the yacht well ventilated? ………. Very

Was the food good and well presented? ………. Delicious food, lovely presentation, every special need & request was met perfectly. Kudos to Deb's talents in the kitchen & her ability to make interesting & very varied meals.

Did you like the area you sailed? ……….Yes, very much do.

Could we the brokers have helped you further in any way? ………. I don't think so, you did a great job matching our wishes, requests & needs. All questions were answered quickly & with detail.

Additional comments on your charter? ……….We loved our experience thoroughly. Thanks for everything & I hope we have the pleasure again in the future to charter yet another trip. Karen, Amnon, Yael & Zvi
The Zeelanders-2nd trip 2012
Debs and Peter,

We had a wonderful week with you again. Our second vacation with you was even better than the first (I did not think that was possible) You catered for our dietry needs perfectly and Debs your food was amazing. Peter, as usual, you showed us snorkeling spots that we had never been to before (and the duck diving was great). You gave us time to relax when we needed it and then showed us the night life for a bit of island partying. We already look forward to next year with you. Keep well – We miss you two!
The Weils – Easter 2012
Dearest Peter and Deb

THANK YOU, THANK YOU.

We had the most wonderful, memorable vacation – the trip of a lifetime.

The food was amazing – the hospitality and company, SUPERB – and our girls feel like they now have a new Aunt and Uncle!

Chris and I are so grateful for the way you taught our children about a whole new world that they could never have dreamt of. The will never be the same – and neither will we.

Hope we will see you again very soon.

Be well.Lots of Love

The Weils

Carol and David-2012

I have travelled many places around the world and have fun no matter the location or circumstances… but I have never enjoyed a vacation as much as I just with Deb and Peter! The boat – spotless and perfect… the food – phenomenal… the camaraderie and friendship – a breath of fresh air… our every need and wish – attended to with detail. The best way to sum up their charm and skills as hosts is this – I smiled through tears as we waved goodbye from the dock… and they will most certainly be a big part of our wedding plans. Please do every vacationer a favor and recommend this amazing couple to turn paradise into magic.

Sincerely,

Carol-North Carolina

Thomas J. Dula 2012



First of all, thank you for such a great vacation. We enjoyed the ship, the beauty of the BVI that you shared with us, the food (outstanding), but most of all getting to know the two of you. It was fantastic. Peter and Debbie, you two were wonderful hosts. Again, thank you for everything.



Robin Sherman - 2012

Sailing with Peter and Debbie was my first trip to the Caribbean and my first time on a sailboat.

They made the trip memorable in every way. They were accommodating, the food was delicious, and they knew the islands well. I felt as though I was at home (with better food). They are professional, personable, and knowledgeable, and were very gracious hosts.

Tom & Julie – March 2012

I hope this finds both of you well and enjoying another great cuise with great guests.

My client, Dave & Nancy Wood, they also own a Dominos Pizza Franchise, send thier regards. When I started telling them about our wonderful vacation, they couldn't believe that we had the good fortune of finding you two. They said that they have enjoyed sailing with you several times and hope to see you again in the near future. They will be seeing your owner at a Franchise meeting and I asked him to pass on how much we enjoyed our cruise and especially Peter & Debbie.

We have been raving to all our friends and look forward to our next time together.

The Cooper's and The Kelly's…AARRHH!!! – March 2012

This was our first vacation in the BVI and chartering a catamaran. It was by far the most amazing trip we have ever experienced. Peter and Debbie are wonderful host's. They catered to all our needs, on board and on shore. Peter's knowledge of the islands and handling of the vessel were beyond all our expectations. Debbie's gourmet meals and presentations are five star quality. After sailing with Peter & Debbie, they are the only crew we will charter with in the future and I doubt we will ever stay in a hotel again. Thank you for the continuous laughter and the memories of a lifetime!!!

Mark and Sally - 2012

My wife Sally and I thoroughly enjoyed traveling the British Virgin Islands. We have sailed many time with out Debs and Peter before they started chartering. We will never do that again. Debs and Peter are a wonderful. Debs takes care of ALL your needs and thinks about things before you have a chance to ask for them. Her food is amazing (and she has been kind enough to give me her recipes) and great fun to be around. Peter loves the ocean and constantly gets you swimming along new found reefs and little hidden spots. We always see an abundance of wildlife with Peter. He is a great Captain and very knowledgeable – He has had an interesting life and his stories will keep you entertained for hours.

The boat is comfortable, roomy, stable and has all the modern conveniences that made our trip wonderful. It was great to have so much space and be able to get into shallow water near the beaches! We have our next trip all ready booked.





Peter and Debie 2011

Keith, Heather, Kate and Tyler 2011

Captain Peter and Chef Debbie – THANK YOU!

We all had a great time. The whole experience was far beyond our expectations.

Thank you for everything!!!!

You are wonderful people and I wish you all the best wherever your great adventures take you. I'm sure we'll meet up again. Tyler and Kate talk about you often and Tyler is still going to buy Sandy Spit Island when he grpws up



Peter and Debie 2011...

Bill and Becky - 2011

Debbie and Peter, we had an amazing time and thank you all for treating us so special. It was the vacation of a lifetime!



Peter and Deb 2011

Neal and Brenda - 2011

The vessel is so stable, we found it easy to carry on our non-sightseeing activities while in transit; sleeping, eating, reading – just winding down, are all easily accomplished. Peter and Debs are terrific. We just wish we could have spent more time with them.



Peter and Debbie..2010

George and Mitzi - 2010

The experiences Mitzi and I had aboard are almost indescribable. The crew are fun, professional and very capable in their jobs.

We had every convenience/luxury you could ever want and the ability to go into small and secluded bays for days at a time just enjoying the wonderful waters of the Caribbean. We look forward to returning and can't wait to be with you again.

David and Barb - 2010



My husband and I have had the pleasure of vacationing in the U.S. and British Virgin Islands. She is a very comfortable boat with well appointed cabins and private heads, and a beautiful salon and galley. We were very sad to be leaving the wonderful waters of the Caribbean hope to return some time and meet Peter and Debbie. Mike has told us all about you.

`
SECRET OASIS Specifications
LENGTH
58ft (17.7m)
BEAM
31ft (9.4m)
DRAFT
5ft 0in (1.5m)
YEAR BUILT
2007
BUILDER
Voyage
DESIGNER
Simonis
GUESTS
10
CREW
Captain Robert Jennings + 1
REFIT
2009
SPEED
9kts / 12kts
STABILISERS
None
FLAG
Virgin Islands (British)
ENGINES
SECRET OASIS Accommodations
SECRET OASIS can accommodate 10 guests in 5 cabins.
The Master cabin has a king size bed, shower and toilet.
3 Guest cabins have a queen size bed, shower and toilet.
A Guest cabin has a double bed, shower and toilet.
4 heads are dry, 1 head is wet
SECRET OASIS is fully air conditioned through out.
Crew has a separate heads and shower.
Sat TV
Espresso Machine

Disclaimer
All information contained in this site has been provided by third parties, and Charter Index is providing this site on an 'as is' basis, and makes no representations or warranties of any kind with respect to this site or its contents and disclaims all such representations and warranties. In addition, Charter Index makes no representations or warranties about the accuracy, completeness or suitability for any purpose of the information and related graphics published in this site. The information contained in this site may contain technical inaccuracies or typographical errors. All liability of Charter Index howsoever arising for any such inaccuracies or errors is expressly excluded to the fullest extent permitted by law.
Neither Charter Index nor any of its directors, employees or other representatives will be liable for loss or damage arising out of or in connection with the use of this site. This is a comprehensive limitation of liability that applies to all damages of any kind including (without limitation) compensatory, direct, indirect or consequential damages, loss of data, income or profit, loss of or damage to property and claims of third parties.
Notwithstanding the foregoing, none of the exclusions and limitations in this clause are intended to limit any rights you may have as a consumer under local law or other statutory rights which may not be excluded or in any way to exclude or limit Charter Index liability to you for death or personal injury resulting from our negligence or that of our employees.
Nothing on this website constitutes advice, nor does the transmission, downloading or sending of any information create any contractual relationship. Prices and indications as to the availability of yachts, captains and crew on this website are given for guidance purposes only and are subject to change without notice.
Charter Index is not responsible for the content of external websites that link to this website or which are linked from it.
Copyright
All content, designs, text, graphics, software compilations and source codes on this website are the copyright of Charter Index and/or its content providers. Reproduction of part or all of the contents of this website in any form is prohibited other than for individual use only and may not be recopied and shared with a third party.
The permission to recopy by an individual does not allow for incorporation of material or any part of it in any work or publication, whether in hard copy, electronic, or any other form. Any other use of the website without prior written consent from Charter Index is strictly forbidden.
<![if ! IE]> <![endif]>