Imagine vacationing with the finest crew aboard the latest designed 58ft luxurious catamaran!

On SECRET OASIS you will sail, scuba dive, swim, snorkel, windsurf, kayak, fish, or hike through a rainforest. You can also just relax and unwind, explore tranquil anchorages, enjoy a leisurely cruise, sip cocktails at sunset, and catch a glimpse of a shooting star...You decide!

SECRET OASIS, winners of BEST OVER-ALL DISH and Best Appetizer at the 2016 BVI Charter Yacht Show! The winning entry - Chocolate Lobster Mofongo!

AMENITIES
CD library
DVD library
Stereo system
Satellite television
Wakeboard

iPod Dock
DVD player
Local television
Air bed

Adult waterskis
Towing ring
Dinghy: RIB / 16ft 0in (4.8m) / 90HP
Paddleboards multiple

Child waterskis
1 kayaks
Beach games
DECK & SYSTEMS
Air-conditioned: Fully
Deck shower
DIVING
Diving by arrangement / rendezvous
Snorkeling gear
SECRET OASIS Crew Profile
Captain: Robert Jennings (45)
Captain Rob and Chef Georgia welcome you aboard.
Rob a keen Sailor, Artist and Chef has been a Captain in the BVI since 1994. "You could say the BVI is my home. I have been touring guests all over our beautiful islands for many years showing them theb est we have to offer."
Chef / Mate: Georgia Stoica (37)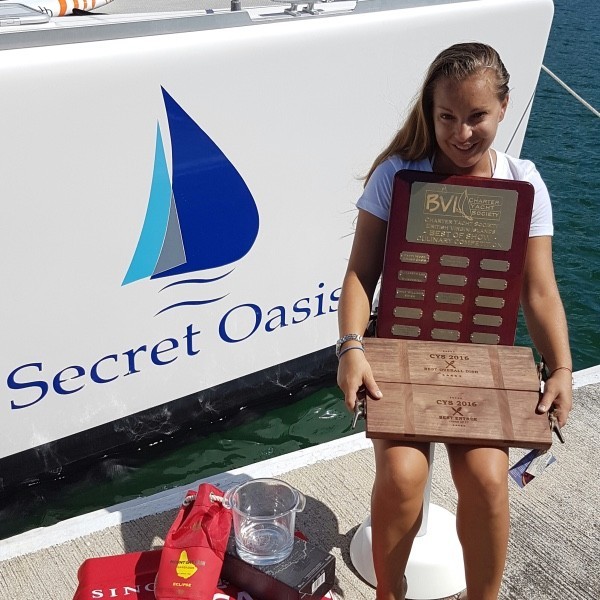 Georgia has been in the BVI since Spring of 2015, but has traveled extensively. She recently sold her guest house in Brasov, Romania where she was host and chef catering for an International clientel. "My passion for cookingallows me to experiment with many different flavors whether it be Asian, Mediterranean or Italian. My main focus is keeping food as healthy as possible using as many fresh ingredients available. Of course dietary requirements are always taken into consideration."
Chef Georgia is the winner of Best Over-All Dish and Best Appetizer in the 2016 BVI Charter Yacht Show's Cuinary Competition.
SECRET OASIS Specifications
SECRET OASIS Testimonials
Rob & Georgia's February, 2017 guests wrote:
Guests aboard SECRET OASIS with Rob & Georgia over Christmas Week, 2016, said:
August, 2016 guests aboard with Rob and Georgia said:
SECRET OASIS Specifications
LENGTH
58ft (17.7m)
BEAM
31ft (9.4m)
DRAFT
5ft 0in (1.5m)
YEAR BUILT
2007
BUILDER
Voyage
DESIGNER
Simonis
GUESTS
10
CREW
Captain Robert Jennings + 1
REFIT
2009
SPEED
9kts / 12kts
STABILISERS
None
FLAG
Virgin Islands (British)
ENGINES
SECRET OASIS Accommodations
SECRET OASIS can accommodate 10 guests in 5 cabins.
The Master cabin has a king size bed, shower and toilet.
3 Guest cabins have a queen size bed, shower and toilet.
A Guest cabin has a double bed, shower and toilet.
4 heads are dry, 1 head is wet
SECRET OASIS is fully air conditioned through out.
Crew has a separate heads and shower.
Sat TV
Espresso Machine

Disclaimer
All information contained in this site has been provided by third parties, and Charter Index is providing this site on an 'as is' basis, and makes no representations or warranties of any kind with respect to this site or its contents and disclaims all such representations and warranties. In addition, Charter Index makes no representations or warranties about the accuracy, completeness or suitability for any purpose of the information and related graphics published in this site. The information contained in this site may contain technical inaccuracies or typographical errors. All liability of Charter Index howsoever arising for any such inaccuracies or errors is expressly excluded to the fullest extent permitted by law.
Neither Charter Index nor any of its directors, employees or other representatives will be liable for loss or damage arising out of or in connection with the use of this site. This is a comprehensive limitation of liability that applies to all damages of any kind including (without limitation) compensatory, direct, indirect or consequential damages, loss of data, income or profit, loss of or damage to property and claims of third parties.
Notwithstanding the foregoing, none of the exclusions and limitations in this clause are intended to limit any rights you may have as a consumer under local law or other statutory rights which may not be excluded or in any way to exclude or limit Charter Index liability to you for death or personal injury resulting from our negligence or that of our employees.
Nothing on this website constitutes advice, nor does the transmission, downloading or sending of any information create any contractual relationship. Prices and indications as to the availability of yachts, captains and crew on this website are given for guidance purposes only and are subject to change without notice.
Charter Index is not responsible for the content of external websites that link to this website or which are linked from it.
Copyright
All content, designs, text, graphics, software compilations and source codes on this website are the copyright of Charter Index and/or its content providers. Reproduction of part or all of the contents of this website in any form is prohibited other than for individual use only and may not be recopied and shared with a third party.
The permission to recopy by an individual does not allow for incorporation of material or any part of it in any work or publication, whether in hard copy, electronic, or any other form. Any other use of the website without prior written consent from Charter Index is strictly forbidden.
<![if ! IE]> <![endif]>