As Decadent and Gorgeous as her Gypsy namesake, Yacht Zingara offers unparalleled spaciousness & comfort. Yacht Zingara's luxurious salon, 5 en-suite staterooms and superior service yield a yachting experience unmatched throughout the Caribbean. Exclusively yours from bow to stern. Contact us today to plan your custom Caribbean itinerary.
AMENITIES
CD library
DVD player
Local television
Fishing equipment

DVD library
Stereo system
Games Console
Air bed

Wakeboard
Towing ring
Dinghy: Tender / 19ft 6in (5.0m) / 90HP
Paddleboard

Adult waterskis
2 kayaks
Dinghy: Hobie / 10ft 0in (3.0m)
DECK & SYSTEMS
Air-conditioned: Fully
Deck shower
Barbeque

Voltage: 110/220
Swim platform
Jacuzzi on deck

Jacuzzi in master cabin
SATCOM

Cell phone
WiFi and Internet
DIVING
aYacht is insured for diving
12 scuba tanks

Crew certification: Instructor
10 BCs

At least one crew member is a certified diver
10 regulators

At least one crew member is a certified instructor
Snorkeling gear
ZINGARA Crew Profile
Your professional crew of 4 aboard catamaran ZINGARA, Capt. Lee Adams with Chef TJ Truscott, and Mate & Stewardess Kieran and Michelle
CAPTAIN – LEE ADAMS
Lee's interest in the Maritime Industry was installed in him from the earliest age possible, owing to his grandfather being Admiral Tom Hardiman of the Port Elizabeth Navy. While at a young age he took part in bay racing and lending a hand at the local yacht club. His passion for sailing grew and after school and much thought, Lee took to the oceans on a recreational professional side as opposed to the Navy. He joined a crew and raced across the Atlantic, where he took part in regattas in Antigua and St Maarten. In the USA he was able to establish himself as a valuable crew member aboard a classic Schooner that circumnavigated the globe, and after completing his maritime studies he was fortunate to take over as skipper and gained more experience in the engineering department. Lee is an active and enthusiastic person, he enjoys all water sports. The experiences he has gained through his travels along with a jovial personality creates a pleasant atmosphere which is enough to make any guest aboard feel right at home, ready to relax and enjoy themselves. 
CHEF – Tyron "TJ" Truscott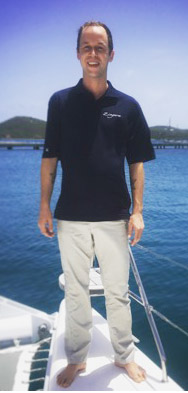 Growing up in my late father's restaurant , it was inevitable to start cooking from a young age.
Living by the sea and cooking was more than just a routine.
Pursuing a career as a chef straight after school, this combined with my love for sport was a good start.
Trained in a French restaurant , where my inspiration of making people smile with foodled me to becoming a yacht chef.
After a year in Spain, home once again, I entered into a position as a private chef for a high profile family of many different cultures.
Missing the sailing and exploring, the position urged me once again to return to furthering my career in the maritime industry.
My big passion for food, culture and people never stops growing.
My dream of opening my own restaurant is on hold, but traveling and experiencing as many tastes world wide as possible and perfect my cooking to the best of my ability is where my heart is.
After working in some of the best restaurants in Cape Town, South Africa, as a Master Butcher and Chef, cooking at the highest standard on the ocean is my ultimate goal.
Mate and Stewardess
KIERAN & MICHELLE
   Kieran originally from the UK is your deckhand on board Zingara, his experience comes from previous jobs world wide working as a dive instructor in many 5 Star resorts and live aboard vessels.  Starting from a young age Kieran sailed, kayaked and dived throughout Europe growing his passion for the ocean as well as learning valuable skills key to the successful running of a sailing charter.  Running conservation camps in Fiji also taught Kieran the importance of a balanced marine ecosystem and he is happy to share with you his knowledge of corals, fish and other marine life.
    Michelle is your stewardess on board Zingara - She is an ocean girl coming from Puerto Vallarta, Mexico. A place where her passion for the ocean and underwater life grew throughout her upbringing. Working in 5 Star resorts in Puerto Vallarta as a dive master and photographer has allowed Michelle to follow her dreams of working by the ocean whilst working in a service industry.
    Kieran and Michelle began working together in Mexico as Dive instructors and underwater photographers. It was here that a great working relationship was forged and they have continued to work successfully together in a variety of roles.  Conducting a research project in the Turks & Caicos on a Humpback Whales which resulted in record breaking encounters and unbelievable new data collected again showcased their talent.  Once the whales left the Turks and Caicos Kieran and Michelle decided to head south and begin a new adventure in the British Virgin Islands.
    They joined Zingara in April and now they combine their experience, passions and enthusiasm for water sports and diving aboard Zingara. Underwater photography is one of their main interests and in their free time they love to spend it capturing underwater life in photos and videos. Join them diving on Zingara to share the underwater world with them.  They are both fluent in English and Spanish and are happy to converse in either and aspire to one day run they own yacht but in the meantime they're working and gaining experience on their dream boat. Zingara is a great opportunity for them to serve to a high standard of hospitality as well as allowing them to sail, dive and be on the ocean.
______________


ZINGARA Specifications
ZINGARA Testimonials
New Years week guests aboard ZINGARA wrote:
We are experienced yacht charterers, as we have been many boats with many different crew. First of all, the boat. Zingara is a perfect layout for 8 or 10 people (we had 10). There is plenty of space and different areas on the boat to spread out. Not only that, but she is provisioned well with many toys and activities. The SCUBA equipment in particular is new and very nice, which is important. The new owners have put money into the boat and it clearly makes a difference. Nice linens and towels, in addition to "the little things" that make a boat nice are all on board. Of all the boats we have chartered, Zingara offers the most for the best value.
Now, on to the important part of any charter, the crew. I can say unequivocally that this is the best crew, across the board, and that each one of the four individuals on board with us were the best at what they did of any crew we have ever had. 
 Let me start with the chef, Teej. We had very different tastes in our group, from kids who only wanted kid food, to adults who will settle for nothing less than the best fine dining. We also had a few picky eaters and a shellfish allergy. At the end of the trip, EVERYONE of the 10 of us said that EVERYTHING they ate from Teej was the best food they have ever had, not just on a boat, but anywhere! Teej was so good that all of us are fighting over having him come to our homes when the charter season is over to cook for us personally. The meals were all creative with great flavors, and perfectly proportioned (except for the monster cookies). Teej never said no; if one of the kids wanted a PB sandwich, it would appear. Everything, from breakfast to lunch to appetizers to the amazing dinners and deserts, were Michelin star quality.
Next, Kieran. The hardest thing to do in a confined space for a week is to keep the kids (ages 7-14) entertained and interested. Kieran did that wonderfully. At every stop all of the toys were instantly in the water and Kieran was ready to go with whatever they wanted to do. And he never got tired, if they wanted to be on the dingy for 4 hours, Kieran was there with energy and a smile. The new things he introduced us to were great, including the HaliJump, the SubWing, and the secret cliff jumping pool, all highlights. And I haven't even talked about SCUBA yet, Kieran was awesome with the SCUBA, encouraging dives every day. By the end of the trip, he had certified two new divers, gave resort lessons to two more, and did multiple dives with the three pre certified divers. From beach dives to more advanced, everyone LOVED the diving. I can not say enough about Kieran's great spirit, temperament, and energy.
Kieran was accompanied by Michelle, who is simply wonderful. I will start with the diving, Michelle loves to dive too and she was involved with all the dives. It was helpful to have both Kieran and Michelle on dives as we could break up the group based on skill level. From the boat standpoint Michelle was always on the spot. There was never a towel out of place, a glass half empty, or what you needed not instantly available. The fact is, Michelle is just a VERY nice person, and pleasant to be around at all times. She was warm and made the entire group welcome and comfortable. And, she was pretty funny!
Finally, Captain Lee. From the time we got on the boat, everything was about us, and what we wanted. There was never a no said the entire time we were there. Not only that, but any side comment was heard, and acted on. So when one of us wanted something to eat that wasn't on board, Lee snuck away and that afternoon it was on board. He truly listened and cared about us and what we wanted. He put together a great trip and at each stop showed us new and interesting things (remember, we have been to the BVI many times). Lee is so pleasant to be around and was really vested in making sure that each one of us was having a great time. It was clear that Lee was passionate about us, and passionate about Zingara. That passion was infectious and really made each of us have the trip of a lifetime.
The personality of the crew makes a charter, and when 14 people are together for 7 days on 80' of boat, it is the personality of the entire crew that makes the trip work, or not work. Not only did this crew make the trip work, but they made it the best trip we have ever taken, both for each individual, and as a family. I would highly recommend this crew to anyone looking for a wonderful week in the Caribbean.

Anonymous Family
Holiday Season guests aboard ZiNGARA wrote:
Lee, Michelle, Kairan and TJ,
The best way to describe how GREAT our trip was this past holiday is "Nobody wanted to get off the boat". I think if the next week wasn't booked, we would of all stayed on.I don't think they make a better captain anywhere in the world. The crew was wonderful and was on top of everything. I told Michelle one day that we truly appreciated how they knew when to be around, but also not be right on top of us all the time. We didn't appreciate the 2-3 pounds we came back with to Texas from TJ's delicious food!!!  The water sports were wonderful on the boat. My great niece and nephew up to myself had so much fun. Looking forward to our next adventure together. 
You can be sure we will book again. All our best,
Jamie, Bert, Brett, Zachary, Natalie, Jenn, Cary, Eli and Sophie.
We miss you all

A Crazy Quilt of comments from Guests aboard ZINGARA in mid April, 2016: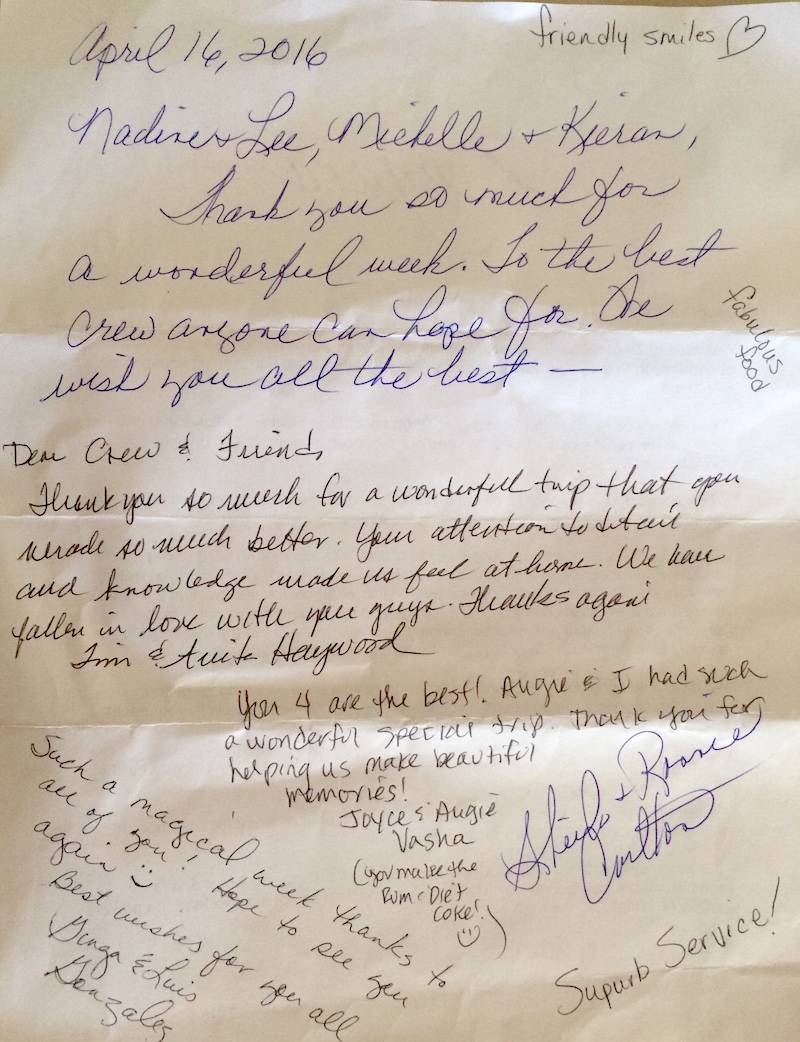 Guests aboard ZINGARA in late February, 2016, said:
Guests with catamaran ZINGARA this past week said:What a fantastic week in a fantastic location, spent with fantastic friends, and a FANTASTIC crew. The crew made this trip absolutely wonderful from start to finish! They were always there for anything and everything!! Phenomenal food, drinks, and snorkeling sites every day. Our sincere thanks to Captain Lee, his lovely bride of one year, Nadine, Kieran and Michelle!!Great job by all!!
Mike and Cathy Stewart

Guests aboard ZINGARA in February, 2016
Hello Nadine!
We are back in Naples and missing the Zingara and crew. I am doing laundry and yes I must cook dinner tonight! Such a shock to my system after being pampered for a week! Mark and I had the best time last week!  
You all treated us as royalty! Your attentiveness and professionalism was accomplished in such a warm and friendly manner. Thank you to each of you!
And thank YOU for the 5 extra pounds! Haha! The food was amazing! You are such a talented chef! 
Our crew has anointed me the "author" of the Zingara 2016 Cruise Cookbook! So if you would not mind sharing some of your amazing recipes, it would be greatly appreciated! Of course whenever it is convenient for you!
Thank you for a perfect week and for the recipes!
Fondly,Debbie Wilhelm
Here goes——
Pina Colada Cheesecake
Focaccia Bread - the 1st day and also the variation of the focaccia served with bar b q chicken
Pina Colada CheesecakeFocaccia Bread - the 1st day and also the variation of the focaccia served with bar b q chicken
Pita Bread
Puff Pastry Tarts with cheese, sundried tomatoes and balsamic reduction
Crab Money Bags
Duck and the delicious sauce you served with the duck
Slaw and the dressing
Seared Tuna and the sauce that you served for lunch
Chocolate Mousse Cake
Chocolate Chile for the beef tenderloin
Brussel Sprouts
Shrimp served atop Tenderloin. 
EVERYTHING WAS WONDERFUL and we would love all of the recipes, but have chosen these so as to not totally overwhelm you and your kindness!
ZINGARA Specifications
LENGTH
76ft (23.2m)
BEAM
38ft (11.6m)
DRAFT
4ft 7in (1.4m)
YEAR BUILT
2006
BUILDER
Matrix Yachts (Pty) Ltd
DESIGNER
Matrix Yachts
GUESTS
10
CREW
Captain Lee Adams + 3
REFIT
SPEED
13kts / 18kts
STABILISERS
None
FLAG
Virgin Islands (British)
ENGINES
2 x Yanmar 240 hp
ZINGARA Accommodations
All cabins have storage cupboards, en-suite bath rooms,separate showers, wash hand basin,
electronically operated venturi type discharge toilets and vanity cupboards.
Owner's suite: 1x King, lounge, spa bath, walk in clothes cupboard
Guest cabins: 4x Queen size beds
Captain's cabin: 1x Queen, office, couch
Crew quarters: 1 x single, 2 x Queen
Day visitor's bath room
Disclaimer
All information contained in this site has been provided by third parties, and Charter Index is providing this site on an 'as is' basis, and makes no representations or warranties of any kind with respect to this site or its contents and disclaims all such representations and warranties. In addition, Charter Index makes no representations or warranties about the accuracy, completeness or suitability for any purpose of the information and related graphics published in this site. The information contained in this site may contain technical inaccuracies or typographical errors. All liability of Charter Index howsoever arising for any such inaccuracies or errors is expressly excluded to the fullest extent permitted by law.
Neither Charter Index nor any of its directors, employees or other representatives will be liable for loss or damage arising out of or in connection with the use of this site. This is a comprehensive limitation of liability that applies to all damages of any kind including (without limitation) compensatory, direct, indirect or consequential damages, loss of data, income or profit, loss of or damage to property and claims of third parties.
Notwithstanding the foregoing, none of the exclusions and limitations in this clause are intended to limit any rights you may have as a consumer under local law or other statutory rights which may not be excluded or in any way to exclude or limit Charter Index liability to you for death or personal injury resulting from our negligence or that of our employees.
Nothing on this website constitutes advice, nor does the transmission, downloading or sending of any information create any contractual relationship. Prices and indications as to the availability of yachts, captains and crew on this website are given for guidance purposes only and are subject to change without notice.
Charter Index is not responsible for the content of external websites that link to this website or which are linked from it.
Copyright
All content, designs, text, graphics, software compilations and source codes on this website are the copyright of Charter Index and/or its content providers. Reproduction of part or all of the contents of this website in any form is prohibited other than for individual use only and may not be recopied and shared with a third party.
The permission to recopy by an individual does not allow for incorporation of material or any part of it in any work or publication, whether in hard copy, electronic, or any other form. Any other use of the website without prior written consent from Charter Index is strictly forbidden.
<![if ! IE]> <![endif]>